Business Development
·
Göteborg
Master Thesis
Do your master thesis at a deep-tech renewable energy company in the middle of the commercial breakthrough.
Are you a student passionate about making a real impact on the environment and the future of manufacturing? If so, this thesis opportunity is tailored for you!
Background
The manufacturing industry today accounts for large greenhouse gas emissions and is heavily dependent on fossil resources. Therefore, the industry is facing a major change when setting goals to achieve climate-neutral production. Meva Energy provides a gasification technology for renewable energy production by using local biomass waste streams to produce high-quality renewable gas (biosyngas) for heat and power or for heating processes. Meva Energy thereby gives an opportunity for the manufacturing industry to become independent on fossil energy. When biomass is converted into gas in an oxygen-limited environment, also biochar is produced as a co-product. Both biosyngas and biochar can play important roles when mitigating climate change.
Your Role
We've outlined some suggested topics that we believe can be mutually beneficial for both you and our organization. Additionally, we are open to exploring other relevant topics through discussion.

1. Adaptation of Meva Energy's gasification technology for versatile fuel use. This project involves developing and adapting Meva Energy's gasification technolgy for multiple fuels. This includes proposing operational strategies, design modifications, and creating a process model using simulation tools like ChemCad or Aspen Plus. The project offers a unique opportunity for two students to contribute to sustainable energy's future.
2. Application and Processing of Meva Energy's Biochar. The focus of this project is shifting towards the chemical analysis and characterization of biochar, a valuable by-product from our gasification. Biochar has diverse applications, including soil improvement, material production, and carbon replacement in industries like metallurgy and filtration. Your thesis will involve exploring biochar's potential through chemical analysis, characterization, and market analysis, rather than primarily optimizing biosyngas production.
3. Competitor analysis. In this project, your primary task will be to analyze and evaluate our key competitors and their operations, including their technologies, business structures, market presence, and innovation strategies in order to clarify our competitive advantage and uniqueness.
4. Environmental life cycle assessment of biomass gasification. The primary objective of this thesis is to create a practical Life Cycle Assessment (LCA) model that enables Meva Energy to comprehensively evaluate the environmental footprint of its products, from cradle to gate. Additionally, this thesis will give insights in results and outcomes related to different methodological choices for allocation between the biosyngas and the biochar.
5. Gasification of recycled wood and other contaminated wood fuels. In this thesis, a significant focus will be placed on accurately closing the component balances across the gasifier. Additionally, this project seeks to establish a fundamental understanding of how gasification parameters, including pressure, temperature, and residence time, influence the behavior of various contaminants within the gasification process.
6. Up scaling of Meva Energy's cyclone gasifier. In this thesis, we seek a student to conduct Computational Fluid Dynamics (CFD) modeling of our unique cyclone gasifier, validate it with real-world data, and explore the challenges of scaling it up to accommodate significantly higher fuel flows. This project involves developing a CFD model, validation with experimental data, scaling-up studies, and optimizing design and operations to ensure efficient and effective gasifier performance.
You get
To work with a growth company in the middle of the commercial breakthrough
Contribute to the global deployment of a unique high impact renewable technology
You are
Curious and willing to learn
Structured and work methodically
Taking responsibility for your tasks
Passionate about large scale decarbonization of manufacturing industry
About Meva Energy

Meva Energy is a deep-tech company within renewable energy using thermochemical conversion of biomass residues. Our technology can be used to replace fossil natural gas in many manufacturing processes as well as generating cost-efficient renewable power and heat from industries' biomass residues. We are now foreseeing strong growth in the coming years.
With headquarter in Gothenburg the small, but experienced, team of Meva Energy is now expanding rapidly and you have the opportunity to be part of this journey.

Read more at mevaenergy.com and apply through career.mevaenergy.com
Department

Business Development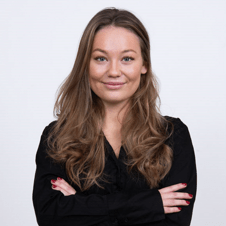 Contact
Elsa
Marketing and Communications Officer – Business Development
Small and tight team

Meva Energy is still a small company where everyone is highly involved in the company. It means the opportunity to influence decisions and also a chance to show responsibility.

Expansive phase

The company is now in a growth phase which also gives the opportunity to grow with the company.

Deep tech and renewable energy

Being part of fast-forwarding the energy transition is at our core and gives us a purpose to spread our technology to the industry and to societies.
Work and Culture
We are now going through our commercial breakthrough. The technology we have been working on is now ready to be introduced to the market and facilitate a fast growth. It is surely positive times for us and being in the deep tech and renewables sector gives extra energy.
Our small team is growing and we believe we have managed to keep the team-spirit in these exciting times. Working together and supporting each other in ups and downs is crucial in a situation like this and to bring out the best in each one of us, both in and out of work.

Even though being small, we are an established organization with collective agreements, good working conditions and working as we were a bigger organization already.
During the Covid-19 period we introduced our company walks. When we couldn't meet at the office, we arranged outdoor walks in the Gothenburg area, a chance for us to explore new areas but also to get to know each other and socialize in real life. These informal events is something we want to keep for the future.
About Meva Energy
Meva Energy is a deep-tech development company within thermochemical conversion of biomass residues. Meva Energy's proprietary technology is able to convert solid residue to renewable gas and is the world's only conversion technology having full acceptance of fine fraction feedstocks such as saw dust or fiber residue. Due to the stability and simplicity of the conversion process, the Meva Energy system is able to produce renewable gas at the same cost levels as fossil gas. Read more at mevaenergy.com
Business Development
·
Göteborg
Master Thesis
Do your master thesis at a deep-tech renewable energy company in the middle of the commercial breakthrough.
Loading application form
Already working at Meva Energy?
Let's recruit together and find your next colleague.